When you hear the term SEO (search engine optimization), how do you think it applies to your website? Is it about creating a website with the proper structure, the correct keywords embedded within the homepage? Or is it something more?
SEO isn't something you do once and let it go. It's not a tool you use during development, then let it ride for the life of your site. Instead, every single page of your site should have proper SEO techniques as well. That means every time you create a new page or make an adjustment to an existing page, you should keep SEO tactics in mind.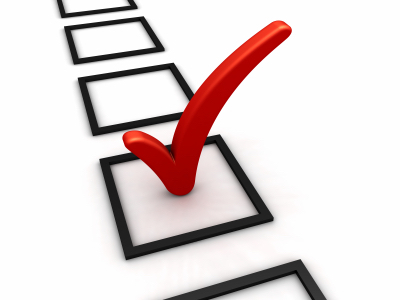 That's where an SEO checklist comes in handy. By having an SEO checklist on hand every time you build a new page on your site, you'll be reminded of the SEO practices that are important to keep you listed and ranked well in Google. After all, your goal is to be placed high enough to rank for your desired long-tail search terms. And if your SEO strategies are kept in the forefront of your mind, your chances increase exponentially. Here's what you should do.
Step One: Look and Feel
Google uses a web crawler to move through your site and decide how you should rank for specific keywords. Because it's automated, it's easy to assume it focuses on the technology side of things and not the design. You'd be incorrect.
The thing about Google's spidering techniques is they get stronger, more sophisticated all the time. As the bots are spidering through a page, they look for a sense of familiarity.
Does the current page match the rest of your site in look and feel?

Are you using the same long-tail strategy throughout your site?

Does every page follow the same theme?
Google doesn't want its customers to have a bad experience. If one page stands out from the rest of your site, a visitor might get confused. Be sure every page sticks with your theme and targets from the same approach.
Step Two: Use keywording effectively
When you select a keyword, be sure you are using keyword best practices throughout the page. That means including the keyword in the title, in the subtitle, in the description, and in the content.
That said, you don't want to use the keyword over and over again. There is a fine line between using it just enough and too much. Those SEO techniques are long gone and can actually work to get you banned.
Think of your keyword as a conversation starter. If you're creating content based around one idea, how would you talk to someone about it over coffee? Use it conversationally. Add it into your content just enough to make it appealing. If you can read it out loud and not stumble over the keywords, you're on the right track.
You don't have to stick just with your keyword. Google is smart enough to understand related words too. It can follow word patterns and understand words within the same context. Focus. As long as you're touching your subject matter in an easy flowing manner, Google will understand.
Dig Deeper: 5 Mistakes That Are Costing You Blog Traffic
Step Three: Links to other pages
Every time you create a new page on your site, find a way to connect it to other pages throughout your site. This gives a visitor motive to dig deeper. If they like what they read on one page, they're more likely to click a link to another page.
Step Four: Use the right permalinks
Have you ever copied a URL that includes a row of numbers, something like this: yoursite.com/14739rs95? While this can get the job done and move people to the correct page on your site, it does little for SEO. Change your permalink structure to include the keywords in your URL instead.
Step Five: Use outside links too
The key to great content is to create a page that provides maximum user experience. Sometimes that means you connect to outside resources beyond your website. When you provide external links, they should support your content. They should help a visitor further their knowledge of the subject matter by linking to a trusted site.
The more you use this technique, the bigger you'll grow. If you use it the correct way, eventually outside sites will also link to you. This increases your Google love tenfold.
Step Six: Ensure you don't duplicate content
What Google doesn't want is a regurgitation of content that exists somewhere else on your site. If you have multiple products that change only slightly, you can still talk about them in new ways. Change the words up a bit. Add a new case study or testimonial. Find some way to make each page unique and interesting on its own.
Dig Deeper: It's Not About The Traffic, It's About The Readers
Step Seven: Add length
There are different viewpoints on how long a page should be. Some say a few hundred words should be on a page; some will tell you that long form content – 1,500 words or more – can get better traction. Google likes content. Google likes viewers to like what they click on and spend time viewing the material. Seconds count.
In most cases, length gives you the chance to stay live and in front of your viewers' eyes for as long as possible. It's content – and a whole lot more. That's why mixing various techniques together can help you out. Try adding video, infographics, charts, and graphs. Give your viewer visual eye-candy that will encourage them to stick around.
Use your SEO checklist every time
In seven steps, you can create the perfect page every time. It doesn't take a lot of extra thought or planning. And if you create content with these steps in mind, before you know it, it becomes a habit.
When you start seeing your pages climb in ranking, it's all the motivation you need to keep it up.