Have you ever stopped to think about what your website really says to the reader? That's what a website content writer does – they focus on what your site says, and how it reads to prospects and customers that visit.
One of the first questions I ask when someone hires me as a website content writer is:
What do you know that your prospects and clients don't?
This question begins building on what you know by being an expert in your field. It helps to gather information on what your clients need to know, and how to share it with them in a way that means something to them. But it doesn't stop there.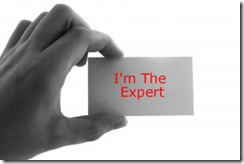 What do you learn just by being in the business that would be of interest to those that may do business with you down the road?
Even though you've been in the business "forever" and know everything about the industry, your clients and prospects don't. That's why Google is currently being searched 31 billion times every month – people use it to get the answers they are looking for.
That's the type of information that a website content writer gains and uses to fill your site and your blog with quality content. It's about educating your client first, and selling to them second.
Whenever I mention blogging and content marketing to people I network with, I usually hear the same thing, "I just don't have that much to talk about". If that's your tendency as well, let me ask you a few questions:
Tell me about your business.
Why is your company different than others?
Who has been your favorite client?
What excites you about working in your industry?
If you're like most people, you'll come alive. I'm sure you can talk for hours on your business – you probably do so everyday. I'm sure you're very passionate about what you do, and know a lot about your industry. You probably have a ton of experience, and really enjoy being able to help people with your services.
That's what you blog.
Talk about your favorite client.
Talk about how you saved a client hundreds of dollars a month.
Talk about the research you do to find the perfect product for each customer.
Share your expertise.
Do you get it? Then it's time to start blogging – and filling up your web presence with good, quality content. Whether you need a blog, or a website content writer, we can help you start attracting clients online.