What is the future of blogging? We'll if you are in business or politics, chances are the paths are fully drawn and filled with gold. While blogging is pretty much across all industries these days, the two areas where people see the most success, and thus are more likely to continue are for business and politics.
Once you start blogging, your more apt to use other social tools to help you build your business and your traffic levels. According to the State of the Blogosphere 2009 Day 5 report, as of this past May only 14 percent of the general population used Twitter. But for the bloggers that took part in the SOTB survey, 73 percent use Twitter. (For corporates and self employeds, it was 83 percent and 88 percent respectively.)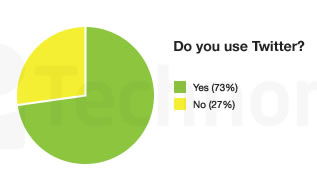 Using Twitter puts your hand on the pulse of society. Not only is it a great traffic booster, allowing you to bring in traffic to your blog instantly, its also a great way to keep touch with what people are thinking. You can find out instantly everything from current events to resources and business tips.  Once you start using it, its easy to begin relying on it as a way to keep up with the circulating buzz.
So how can you use Twitter if you blog?
Think of it as a resource for content. Follow the leaders in your industry, and people that offer advice and tips that relate to your target market, and of course people that may eventually do business with you. You can click through and find a ton of information that relates directly to your prospects and clients, and pass it along. Become a resource. Become an expert. The more you're willing to share, the greater chance you have of becoming an authority – and picking up prospects and clients.
---
Don't forget to download your FREE Blogging Planner today.
Blogs can benefit any website but don't worry if you can't do all the writing yourself … you can hire a ghost blogger for that!