So you've decided that starting up a blog is a great way to promote your small business. Now what? Where do you start? And how do you make it a success?
For small business owners wading into online marketing for the first time, it can be a daunting experience. You may have heard that the only way to leverage your small business in the online world is to blog. But what does that mean? And will you really be able to handle all the work that goes along with blogging?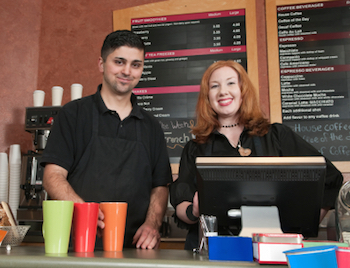 Operating a small business blog will be a lot of work. But running a small business overall means pulling on a variety of hats throughout your day to ensure things are done. Marketing isn't a chore you can do once in awhile; its something that needs to be done every day. Here's a quick look at all you'll have to do.
How many posts should I create? There is no right answer to this question. The most important answer is to blog as frequently and as regularly as you can. If once a week works for you, start with that. As you begin generating results, you'll want to increase your frequency as a way to connect with your readers.
Will I see results with my first post? Probably not. Like any kind of marketing, it takes time to generate results. But the good thing is once you have a post online, that post will be available to work for you from that point forward. You can always refer back to it and use it in your marketing campaigns.
Dig Deeper: Why Writing For Readers Beats Writing For Search Every Time
Is there one blogging platform better than the others? Not necessarily so. Although we personally use WordPress and would highly recommend it, we've seen others have good results with other platforms. The reason we like WordPress is its open source, has many resources that make it easy to operate, and has good traction within the search engines.
What should I write about? Write about things that impact your customers. What are they searching for? What questions do they have? Think of your blog as a communication tool with prospects and customers. Keep it to the point, and you'll always have things to say.
Dig Deeper: Why Generic Content Writing Doesn't Work
What if I can't write? We know a lot of people fall into this category, especially as a small business owner. Maybe you hate writing. Maybe you don't have time for a regular post. In either case, working with a ghost blogger can help you put the right information online without the chore of having to write it.
Can I sell through my posts? Of course. Just remember that people don't regularly search in Google with the thought of buying something, nor do they share sales messages on their social media feeds. Keep selling to a minimum, and educate instead.
What if I don't want to release my secrets to my competition? Trust me when I say your competition is busy 24/7 with their own marketing and planning. While they may take notice of what you do, they'll be following their own path and will merely graze over your ideas. Even if they "copy", they won't have your authority or your drive to do things quite the way you do.
Dig Deeper: Content Writing For Top Performance
Can I use my blog posts in any other way? Yes. Great content can be used in a variety of ways. We've heard from our ghost blogging service clients that they pull posts off of their blog and use them in newsletters, marketing brochures, ideas for networking presentations, social media postings, even guest articles in industry related magazines. It's your content and you can use it any way you choose.
Ready to have your own small business blog working for you? Go here>>