Want to know the truth about websites? In today's world, one in four are being designed using the WordPress platform. We've used the WordPress platform as our site-of-choice for years; we wouldn't offer you, are client, anything we weren't fully comfortable or competent in as well.
We also know that in today's world, smart technology is our reality.
1 in 4 online searches are conducted on a mobile device.
4 out of 5 consumers use smartphones to shop.
57% of users won't recommend companies with poor mobile sites.
The average American spends 2 hours a day on their mobile devices.
So we don't just design a site that looks good on your desktop, we make sure its mobile ready for what the coming trends show us is happening.
When you work with TheSocialGhost, you get access to technical expertise in a prompt, reliable way. One that focuses in on what your clients want most, while conscious of your business' bottom line.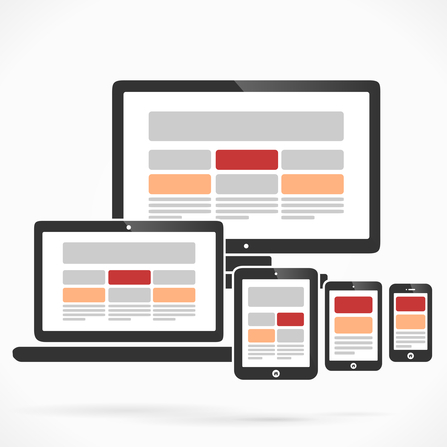 Who This Service Is For
We help many different types of clientele every day. Is your business in any of the following stages?
Startups and First Timers: One of the most important first steps in building a business is having a web presence. As you're out networking, making those ever-important first connections, having a place for them to go for more information is imperative. The power of a WordPress platform is once you have it in place, you have complete access to the back end system, meaning you can add pages of content as you move, change and grow. And with a mobile responsive site, you'll be ensured that no matter how a client views you – desktop, laptop, tablet or phone – your site will cross platforms with ease.
Established Sites: You've had a site online for years; yet it does nothing for your online marketing. If you've never tracked a client to finding and booking you through online sources only, its time to come into the modern age with your technology. We believe you should have 100 percent control over your content and design every day of the year. We can help you make your site more flexible, more usable, and change the direction of your company in terms of finding new clients in the online world.
Its Time For A Change: You've been ready for a change for some time now, but maybe have been a bit confused about the direction you want your site to take. We can answer your questions about content, SEO, branding and more, and help you design a site that not only looks good, but gets noticed too.
Ready To Get Started? Click Here
____________
"I'm glad I found you. I've been looking for a web design company for quite a while that could help me to create an exciting and effective website. You've not only met but exceeded my expectations. The intuitive questions that you asked and your attention to detail is helping me to create a web presence that I can be proud of. Your quick response to my various ideas and questions has also been appreciated."
~ Bob Bankston/CEO, The Musician's SuperStore
"Our new design turned out even better than I anticipated. I've had amazing comments from everyone that has seen it. Andrew was great to work with – 
wish we'd updated our site a long time ago!"
~ Steve
"It has been such a pleasure working with you and your knowledgeable staff of writers. You have made me look very good. My website is pleasant to look at. The colors are soothing for my business of massage. The suggestion for wording of who I am, what I do has been simplified for anyone who looks at my site and wants to know about massage will understand what I do and what they can expect. Andrew working with you was such a pleasure. You are very professional and sincere. Your suggestions and help with making the site mine were wonderful. Giving me comparisons so I could see and understand what would work, how it would look and communicate what I wanted. All that made the website a little more "me". This was important to me. Thanks."
~ Robin Lewis, massagetherapybyrobin.com
"Vision Business Concepts provided us with very prompt service and excellent communications. Andrew was a pleasure to work with. We highly recommend his services."
~Marnie Walsh, Walsh Law, P.C.
"I just wanted to take this opportunity to express my thanks for the incredible job you did in redesigning my website. You made the whole process "painless" and your patience was amazing. The website looks fantastic and after you "walked me through the software installation – I can now easily make changes and insert / delete pictures, etc. I was quite impressed with your expertise and professionalism."
~ Rick Lawrence, Lawrence Architecture Inc.
"I want you to know how pleased I am with the web site you developed for me. I appreciate your understanding of my objectives, and the creative solutions you proposed to get the information positioned in a way that is easy for the viewer to navigate. You also made it simple for me to get information to you, keep a consistent look with the graphic material I am using and the website. It all works together. Your knowledge and patience with me as I learned what the process helped me finish something that I had wanted to do for some time. If I had realized how easy it could be, I would have done it sooner. I also appreciate the good communication that you maintained as I worked to get the web host to get it up. I encourage anyone who needs to develop or change a website to contact you. You get the job done very well in a timely and cost effective manner. Thanks very much."
~ Carol High, chighre.com