Want to move forward into the new decade with a successful plan in place? Create a content marketing plan.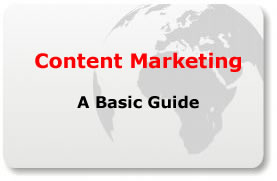 Content Marketing is the process that allows a company to market their business by providing quality content to attract new customers. It's not about selling – it's about building the relationship. It's not about interrupting a customer to bring you your message – it's about letting your customer request the information that's right for him or her and moving forward at their own pace.
If you've been marketing for a while, (and by awhile I mean 5 years or more) you've probably focused on advertising. Your goal with every form of marketing is to promote you and your products and your business. Not so with content marketing.
Content marketing is about building value and trust. It's about having quality content available in many different formats, and letting your customers and prospects decide what's right for them.
Start with a blog
One of the reasons blogging is taking the Internet by storm is the ability to add content whenever you choose. Start with my site TheSocialGhost. I started it with the sole premise of providing quality content on how you can utilize content to the best of your ability. My goal is to give you quality tips every week, and help you understand how important content is. Do I have services available like ghost writing? Definitely. And I promote them in subtle ways (how's this for subtle!). But I also know only a few people that read this post will have any interest in ghost writing at all. Most are looking for ideas they can use to build on. And because I know the importance, I'm willing to share my knowledge freely to help everyone understand blogging and content marketing a little bit more.
A blog puts you in the drivers seat. A blog gives you the control to add content whenever you choose, day or night.
Build with a list
Having a blog is great, but it's the list that really makes your business profitable. Because without a list of clients and prospects to market to, your business has little value.
So once you have your blog in place and you've started to add quality content, its time to build a list. In the simplest form, you can do that by promoting your RSS feed, and having people sign up to monitor your new posts. Or take it to the next level and offer a free report, whitepaper, audio or video recording, and have people sign up for it. (Have you signed up for my free audio file? It has a ton of quality content.)
This list is your golden tool for building all the business you desire from this point forward.
Add in a little social
Why is social growing in leaps and bounds? Because it allows you to freely share content in any way you choose.
Have you ever Googled yourself? What comes up? Especially if you are a small business, you need to monitor this all the time. You can control what's coming up by feeding in content. We have huge followings on Facebook and Twitter. When we link to a post, we can drive thousands of page views with just a couple mentions on social sites.
The key is to get the following and the comments rolling on social sites that you can't control, and lead them right back to the content you do control on your blog.