How do you choose a perfect blog title for your blog post?
In many cases, people barely think about it. I was on a wedding planners site recently, and one of her blog post titles was "Jessica and Andrew's Wedding".
But is that the best way to do it? Should your blog title just be an afterthought – something that gets your information on to your site with little thought to anything else?
If you've always done it this way, its time to give it more thought.
You can spend hours creating the perfect post. You can write, edit, and edit some more. Yet it doesn't matter how much you put into your post if your title doesn't accomplish two things:
1. Attract the attention of your readers
2. Attract the attention of the search engines
A blog title is important because:
It's the first thing people see – they make a split decision to keep reading or not.
Your title becomes your long tail – will it help find you traffic in Google and other search engines?
Your title feeds into your title tags, and can also help you gain traffic in the search engines.
It sets up your story. It's what people see if you are using RSS to announce your information in other places.
So with that much riding on your title, saying more than "Jessica and Andrew's Wedding" again and again should become your norm.
Name your post first
Before you even write your post, what will it be about? Let's head back to the "Jessica and Andrew's Wedding" idea. Jessica and Andrew will love the post. And they'll send all their family and friends there. But who else will truly have a desire to read it?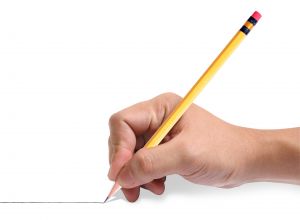 This post was filled with photos and information about the wedding itself. But from a wedding planner's perspective, she should want to share so much more with her prospects and clients. She should gear this post to future contacts, not completely with her current clients. How about renaming the post "Planning A Beach Wedding With Jessica and Andrew"? See how it changes the perspective? Jessica and Andrew will still love it. And yet it opens up the post to so many more readers.
Think from their perspective
When someone heads to Google to find information, they won't know to type in your company name, or your clients' name. Hence, the "Jessica and Andrew's Wedding" title will never be found. But they will type in things that pertain to them. So they have every chance of typing in "planning a beach wedding" if that's their goal.
By combining the two into a post title "Planning A Beach Wedding With Jessica and Andrew" you're taking care of both sides – your potential prospects, and your current clients.
But now that you have a post title post "Planning A Beach Wedding With Jessica and Andrew", don't get stuck in the same title rut. In other words, you wouldn't want your next five posts to be:
Planning A Beach Wedding With Anne and Jared
Planning A Beach Wedding With Amber and Michael
Planning A Beach Wedding With Bree and Justin
Planning A Beach Wedding With Melanie and John
Planning A Beach Wedding With Lauren and Conner
One look at that and your prospects would back out as quickly as possible. Boring.
Instead, play it up.
A Beautiful Sunset Ceremony With Anne and Jared
A Wedding In Cabo San Lucas: Join Amber and Michael
Bree and Justin – A Wedding At The Biltmore Estate
See the difference?
Your readers are your top concern.
Understand your readers. What do they want to learn, read about, and understand better?
Define your topics. If your blogging about photography, they want to see titles that give them more information about what they love. "The Fate Of Wedding Photography" was hugely successful on my photography blog because it captures the attention of my readers.
Be clear – but have fun too. What made "The Fate Of Wedding Photography" so much fun was it played on emotions. A lot of businesses are in trouble in this economy. Readers can clearly see what the post is about – wedding photography – and yet it's asking a question that's on a lot of studio owners' minds. Of course they want to read to find out what my take is on the whole industry.
Be original. Your blog is your voice. It has your personality. People come to it because they like what you have to say. So keep saying it. The more you say it, the more they'll read.