One of the most effective ways to grow your business online is by offering your potential customers a newsletter. By providing information on a regular basis, you'll be putting your brand in front of them time and time again. And you'll also let them see a bit of your personality – a big benefit when trying to entice someone to buy.
If you've never had an online newsletter before, where do you start?
1.To build a page … or not
When people visit your site for the very first time, 99 percent of them will not take action at that point in time. If you don't give them a reason to want to connect with you, you may potentially lose them as a prospect forever.
There are three ways to entice people to sign up for your free newsletter from your site.
On a distinct landing page
Sidebars are easy to build into your template and sure your readers have an option on every page, but they have been shown to be not very effective.
Popups, well, they are flat out annoying. People don't like them, so why use them?
Which leaves us with developing a distinct landing page.
When you develop a landing page for your free giveaway and/or your newsletter, you can describe it in detail. You'll also have a distinct URL that you can use in your social accounts, and provide to people if you are out promoting what you do. Here's an example: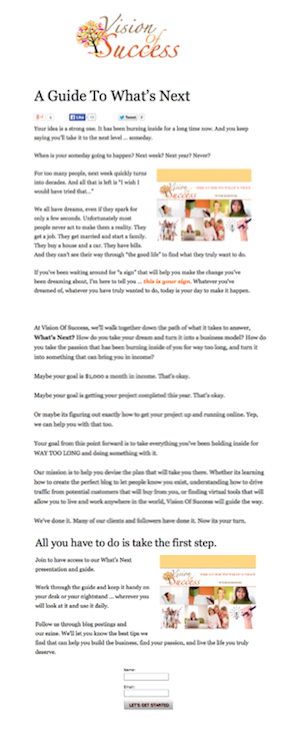 It also gives you a way to solidify your thoughts and ideas, and give perspective to why you would like your visitors to sign up for your free information in the first place.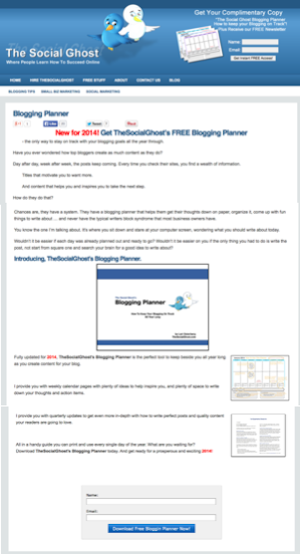 Keep in mind when you create these pages, they have one purpose: to convert people and have them sign up for whatever you are offering. Don't make the offer longer than it needs to be, or more detailed than you need to get your message across.
2. Make your message clear
When you are building your newsletter page, your ultimate goal is to get readers to give you an email address in exchange for your information. Be clear about that goal. Entice them with a great headline. Be specific in your text as to what you will provide.
Always remember, people are constantly thinking, "What's in it for me?" If they don't get that immediately from what you are providing, they will never convert to your offer. Make things clear and never be afraid to provide specifics.
3. Include trust elements
Why should someone that may not have heard of you up until this point trust you? What makes you a part of their community? Why should they think of you as a friend?
There are many ways to go about this. I write for a lot of publications, so I've put together a simple graphic that showcases some of the places I've been published in.
One of my clients chooses to place a variety of logos of recognized organizations he belongs to, and announces the ratings he's received through them.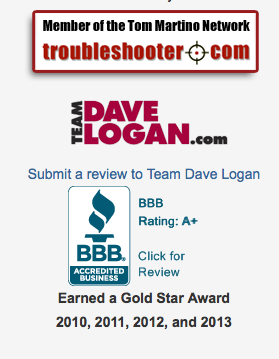 However you choose to do it, showcase what makes sense for you, your audience, and your community.
4. Consider using video
Video is more popular then ever. The power of video is that they help you connect with potential customers on a deeper level then context alone. When people see you and hear you, they begin developing a relationship with you almost immediately. That can be pretty powerful when its time to connect.
To embed video into your page, the easiest way is to upload your videos to YouTube, then use the copy/paste feature to place your video directly into your page. It's a seamless connection that is easy to do.
5. Use a newsletter service
If you want to grow your email list in today's world, doing it through your email program is a big no-no. Don't do it. It's the quickest way to have your email provider shut down your account and leave you hanging. With all the spam laws in place, you need to use a professional system that gives you an easy way to send and connect, and make sure you are in full compliance with laws and regulations.
There are a lot of newsletter services out there. I've used to consistently with my clients.
The first is Constant Contact. They are one of the leaders in the email newsletter service department, and with good reason. They make it easy. They work on a price per contact basis, with up to 500 email addresses for $20 a month.
The second is aWeber. aWeber gives you an added bonus of being able to use autoresponders as well as newsletters, which is always beneficial as you grow your business. They also provide up to 500 contacts for $19 a month.
Which ever system you choose, you'll have an easy way to create your sign up box, then move the coding directly over to your landing page, making it easy for your visitors to sign up and receive your information.
6. Make it your own
The key is to get started right away, then dress things up a bit from there. Start with a simple headline and message. Then add video, photos, graphics, infographics, or anything else that will make your page pop, and help your readers convert in an easier manner.
Remember, it doesn't have to be perfect your first time out the door. You just have to connect with your readers and entice them to sign up. The improvement comes down the road as you learn, change and grow.