When Facebook first came into existence, it was all about you as a person. Your profile was used to establish you, your likes and your interests. But as more people wanted to add a business side to their Facebook account, the Page function began to grow. And while its still growing and morphing today, there are a few things you should have in place from the beginning to help you get your Page noticed.
1. Chose a name and stick with it.
Facebook is different than Google, and you need to treat the two as separate units. In Google, everything is based on keywords – what a visitor may type into Google to find you. On Facebook, it's all about relationships, and attracting the attention of a potential client because they like what you offer – not how good you are at keywording.
So if you run a business "Massage By Nancy", create your Facebook page "Massage By Nancy". You can actually harm the potential of your page if you try and play the keyword game by adding keywords to the title, such as "Massage By Nancy: Massage, Deep Tissue Massage, Swedish Massage, Facial Massage and Chair Massages" because people will view what you are doing as spammy, and will have less desire to read what you do.
Once your name is set, don't change it as Facebook dings pages that change titles.
2. Use the "About" text box to add keyword rich data, and to help direct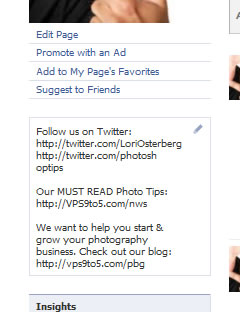 traffic.
In general, people read from left to right, top to bottom. So it's important to put your best information in places where people are most likely to see it.
The About text box is a great place to add your best keywords, and to use it to direct people to your websites, sign up boxes and other lead generation tools. What is the most important thing for your visitors to do? Use that information in this box.
3. Use the "Info" tab on your Facebook page in detail.
While Facebook is all about building relationships, the Info tab on your page is all about your business. Make sure you fill out the tab in its entirety, and use your top keywords throughout the copy. Remember, Facebook is the second largest search engine online – people use it to search out a variety of information. Because of that, the more you use the better.
So for our "Massage By Nancy" example, its important to think from her clients perspective. People may search: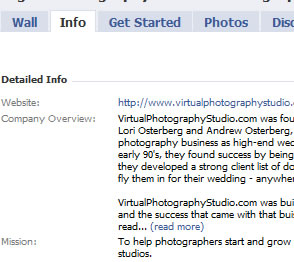 Address, City, State, Zip, Country – this may all be used for local searches
Company overview, mission, products – a great place to list out exactly what you do to attract the attention of people searching within your industry.
Websites – have more than one, list them all. This is an opportunity to gain links to your sites, and other relevant sites in your area of expertise.
4. Add content on a regular basis to your Facebook stream.
When you post information to your Facebook page, anyone who is a Fan, or has "liked" your page will receive that note in their newsfeed. Because people are visual, attaching a photo to it can also give you a boost in click thrus, and in the amount of traffic back to your page. Make sure your content is relevant to your business, uses key words and key phrases throughout, and helps support your area of expertise. Likewise, when posting a photograph with your post, you can add keywords and descriptions to your photo as well, helping to give you even more traction.
5. Concentrate on growing your Facebook page.
Facebook links from your Page to the default version of a Fans Facebook profile page. Which means the more Fans you have, the number of links you have can add up, giving you even more traction in both Facebook and the search engines. To grow a business, grow your Fans. Give them a reason to sign up, and be active within your own pages, and on relevant groups.