You know you are a Twitter Addict when: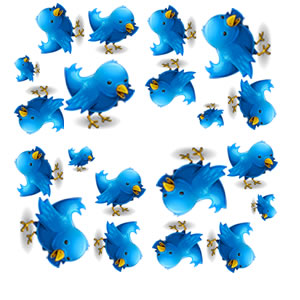 You are out networking face to face, you ask people what they are @ instead of what they do.
You're in a seminar on social media, and you announce you have more Twitter followers than the speaker.
You can't make it through a dinner conversation without talking about your Twitter friends.
You lie in bed at night thinking up clever ways to get retweeted.
Your kids introduce you to their friends by saying "she tweets".
You run to the television every time Twitter is in a commercial.
The highlight of your day is Tweetup invitations.
Tweetdeck is the first application to load on your desktop.
You use the Twitter bird on your birthday cake.
You buy a house on Twitter Road.
You upgrade your phone to Tweet better.
Twitter t-shirts are the only gift you'll be giving this holiday season.
You Tweet the details of your vacation.
You spend 30 minutes brainstorming ways you are a Twitter addict. (Yes, I must confess…)
Okay, I'm sure you can add to this list. Let's hear it. You know you're a Twitter addict when…
---
Don't forget to download your FREE Blogging Planner today.
Blogs can benefit any website but don't worry if you can't do all the writing yourself … you can hire a ghost blogger for that!