Day 2 of the State of the Blogosphere was released today, really without much surprise. (If you have a chance to head over and listen to the interviews, they are very informative) People that are professionals, corporate or self-employed blog to:
Attract new clients
Share expertise and experiences with others
Speak openly on topics of choice
Meet and connect with like-minded people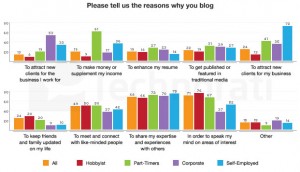 When you go into business, the first item on your list was creating your marketing plan.
How will you market your business?
How will you find clients?
Marketing is all about having the tools necessary to reach out to prospects that will ultimately turn into clients. Blogging is simply one of those tools that allows you to reach out to a broad marketplace, and raise your potential beyond what you could normally reach out to in your local community.
Blogging also gives you the ability to market once, have it work for you always. Put up a blog post today, and it can still bring in clients several years from now. How? Let me give you an example.
About 18 months ago I created a blog post on my photography blog, The Difference Between Amateurs and Professionals. It ranks high in the search engines, and I use it quite frequently in the social sites to generate traffic. People love it because of the controversy of what separated an amateur from a professional photographer. People have their own opinions, and they love expressing them.
This post works for me today to generate traffic and interest to my site. It works well because I've kept writing on my blog, and have hundreds of posts. Google and my followers look to me as an authority, because of the content I have within my site. So this one post that I created 18 months ago only adds to my credibility and my popularity. And still helps bring in enough traffic that allows some to convert into clients.
---
Don't forget to download your FREE Blogging Planner today.
Blogs can benefit any website but don't worry if you can't do all the writing yourself … you can hire a ghost blogger for that!