Community connections in Twitter allow you to interact with similar groups or users in your area. We have put together a list that will help you organize the Twitter experience.

Organize your properties with tags on your own personal Dwellicious bookmark page
Top Twitter posts that are "non-commercial" or sales posts found within the Twitter community.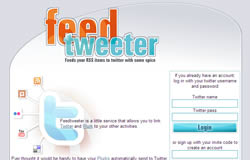 Feeds your RSS Items to Twitter with some Spice
Feedtweeter is a little service that allows you to link Twitter to your other activities. Basically it's a system that keeps track of an RSS feed and processes any new items that appear.
Gridjit is a social portal that lets you view your web universe in a whole new way. The original Gridjit only supported Twitter but the new version has been redesigned to allow us to add more services. The next version will support Twitter and FriendFeed.
Group message broadcasting for Twitter Problem: Malcolm, Zoe, Kaylee, Simon, and River all work together on the same web development team. They are avid Twitter users and want a similar way to broadcast quick messages and updates to everyone on their team. Since these messages may contain confidential information, the team doesn't want them published to their public Twitter timelines or to any followers who are not part of the team. Solution: GroupTweet allows Malcolm and the gang to send messages via Twitter that are instantly broadcasted privately to only the team members.
The Tweeter Directory –
Choose a category and find other Twitter users or list your name to let people find you!
LinkBunch lets you put multiple links into one small link which you can share over IM, Twitter, email or even a mobile phone SMS.
Journalists, Bloggers & Media Outlets on Twitter Gives you easy access to names, and an easy way to follow each contact.
Welcome to your personal micro-news agency. Discover relevant information filtered by the people you follow.
MuckRack – Journalists on Twitter. A running conversation of journalists and media sources that use Twitter regularly.
Have you ever wondered if someone of your Twitter followers is living close to you. Nearby Tweets is the perfect app to check that.
Back Up your Twitterings! – Backs up your friends, followers and tweets
With groups and discussions, TweetWorks helps you get the most out of Twitter. How it works…
Tracking the links you share on twitter and friendfeed
TweetChannel makes it possible to create channels by twitter. Log in with your own twitter username and password in the sidebar and start right away (The twitter user tweet_channel will be added to your friends list). By adding #channelname in front of your tweets, your tweet will be listed in the channel discussion on TweetChannel.com.
Twellow is a Twitter Directory to locate individuals in categories
Twibs allows you to find, follow and interact with businesses, apps and services on Twitter.
We love Twitter. We hate when it's down. If you're addicted to Twitter as well, tweet your heart out through Twiddict and avoid life-changing withdrawal symptoms during Twitter downtime. We'll make sure your tweets end up where they belong.
See what your Twitter friends are blogging about! Twiffid shows you the headlines of the websites your Twitter friends have listed in their profiles
twiggit is an automated service that lets your friends on twitter know what articles you digg.
With Twingr, you can create a microblogging community and communicate with friends and other people that share your same interests.
You can input a twitter username or keywords in the search box to track a conversation, topic or conference. The results will auto-refresh every 20 seconds:
Like Yahoo Answers? Twitter Answers is a substitute for twitter users
Official javascript codes that display badges showing what you are posting on Twitter.
If you love Twitter, you'll love TweetBeep! Keep track of conversations that mention you, your products, your company, anything, with hourly updates! You can even keep track of who's tweeting your website or blog, even if they use a shortened URL (like tinyurl.com). Now, how cool is that?!
See where all of the latest twitters are coming from. Shows on a map live.
Twitterless tells you who stops following you and graphs your follower history over time, making this info available in a variety of useful views.
Create your own tweetups. Invite your friends, and manage your group all in one place. Great way to connect Twitter followers in a local region.
Looking for more people to follow? –
Twubble can help expand your Twitter bubble—it searches your friend graph and picks out people who you may like to follow.
A user powered Twitter directory
---
Don't forget to download your FREE Blogging Planner today.
Blogs can benefit any website but don't worry if you can't do all the writing yourself … you can hire a ghost blogger for that!