Xpenser
Xpenser helps you record your expenses from anywhere with your mobile device and Twitter.
TwittyTunes
Share your favorite tunes as you are playing them with TwittyTunes.
TwitterKeys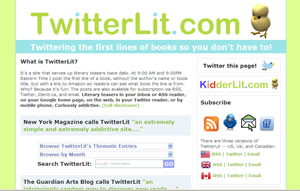 Enhance your Twitter conversations with TwitterKeys. Let's you ad tiny pictures to your tweets.
TwitterLit
TwitterLit serves of literary teasers by posting the first line of books to its Twitter feed.
TwitHire
Looking for a job or have a position avialalbe? Post it to TwitHire.
TweetWhatYouEat
On a diet or want to track your calorie intake? TweetWhatYouEat will track it all in an easy application.
RememberTheMilk
RememberTheMilk provides direct messages to help remind you of your daily tasks.
TheMattinator
TheMattinator is an application that allow you to manage more than one Twitter account at a time.
Click&Win
Try your game of chance by clicking on the "clickandwin" button when lotteries start – right now you can win $10 Amazon gift cards.
CommuterFeed
CommuterFeed allows you to report traffic reports via your Twitter feed.
Twecipe
Have a few ingredients and don't know what to make? Feed them into Twecipe and it will give you a recipe with your ingredients.
---
Don't forget to download your FREE Blogging Planner today.
Blogs can benefit any website but don't worry if you can't do all the writing yourself … you can hire a ghost blogger for that!