We recently purchased The Flip Video camera to take with us when we travel. Not only have we seen amazing results using this tiny camera, but with the ease of use, it really was impossible not to get one.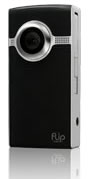 What makes The Flip different from any other camera you've ever used is its flexibility. Simply take The Flip and start recording. Depending on The Flip you buy, you can have anywhere from 30 minutes to a couple of hours of recording time. When you're finished recording, pop out the USB port, plug it into your laptop or desktop, and with its own software will download it immediately to your files.
If you don't need any editing, you can take your video and share it anywhere. Put it up on YouTube, or put it onto your Facebook account. You can also take it and put it into your blog posts, to share any of your comments anywhere, anytime.
I've recorded several videos with my Flip, and love the results. Plus its easy to take along everywhere, which means its also easy to have with you when you run across a reason to use the video.
Try it out at your next convention, and record some of the cool new things in your industry. Or record a how to video to show your clients how to use your products better. I know once you start using this handy little camera, you'll be using it all the time.
---
Don't forget to download your FREE Blogging Planner today.
Blogs can benefit any website but don't worry if you can't do all the writing yourself … you can hire a ghost blogger for that!