Have you ever felt like your life has become an open book? You shout out to your Twitter friends when you're heading to a meetup. You ask your Facebook friends if anyone will be attending the upcoming seminar in Las Vegas. And hey, maybe you even chat about your vacation, posting photographs along the way to share with all your newfound friends.
Have you ever thought about the other side? You know, the "what if" the wrong person gets this message, and now has all the information they need to head over to your place and rob you?
That's the idea behind PleaseRobMe.com. The purpose of the site isn't to let would-be robbers in on an easy way to find the next house to rob. Instead, it's a way to bring attention to the fact of how you are releasing your information – and a good reason why you may wish to change the way you share.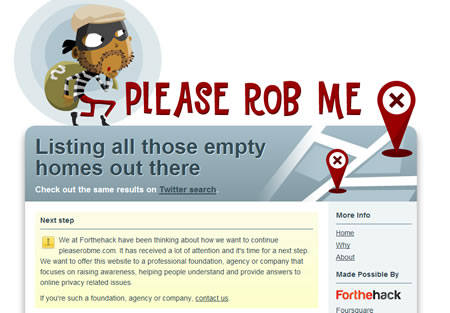 PleaseRobMe.com is linked in with two of the top social sites being used on mobile devices – Twitter and Foursquare. The concept behind both of these popular tools is to let people know what you are doing – right now. But if you take that concept too far, you're also letting potentially millions of others know where you are, what you're doing, and how long you'll be away. So a little post like:
Yes, Friday. Two weeks in Europe start tomorrow-can't wait. Will share photos on my Flickr acct along the way.
Can potentially tell someone they have two weeks to find you, choose the right time to head in to your place, and have plenty of time to pick and choose exactly what they want.
---
Don't forget to download your FREE Blogging Planner today.
Blogs can benefit any website but don't worry if you can't do all the writing yourself … you can hire a ghost blogger for that!