Community connections in Twitter allow you to interact with similar groups or users in your area. We have put together a list that will help you organize the Twitter experience.

Organize your properties with tags on your own personal Dwellicious bookmark page
Top Twitter posts that are "non-commercial" or sales posts found within the Twitter community.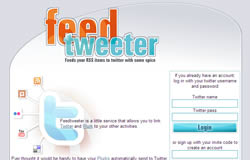 Feeds your RSS Items to Twitter with some Spice
Feedtweeter is a little service that allows you to link Twitter to your other activities. Basically it's a system that keeps track of an RSS feed and processes any new items that appear.
Gridjit is a social portal that lets you view your web universe in a whole new way. The original Gridjit only supported Twitter but the new version has been redesigned to allow us to add more services. The next version will support Twitter and FriendFeed.
Group message broadcasting for Twitter Problem: Malcolm, Zoe, Kaylee, Simon, and River all work together on the same web development team. They are avid Twitter users and want a similar way to broadcast quick messages and updates to everyone on their team. Since these messages may contain confidential information, the team doesn't want them published to their public Twitter timelines or to any followers who are not part of the team. Solution: GroupTweet allows Malcolm and the gang to send messages via Twitter that are instantly broadcasted privately to only the team members.
---
Don't forget to download your FREE Blogging Planner today.
Blogs can benefit any website but don't worry if you can't do all the writing yourself … you can hire a ghost blogger for that!