Brand new to the marketplace in 2010 is the Sony Bloggie Camera, perfect for bloggers that want an easy camera to take along, and have instant access to videoing everything.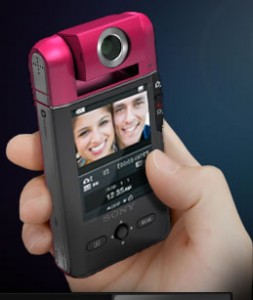 I've always been a huge fan of the Flip camera, and have one I use all the time. But the newest entry – the Bloggie Camera – has really captured my attention.
The Bloggie has all of the things you would expect: compact size, USB arm, cool colors, easy to use software. But it also has things you wouldn't:
Like the unique swivel lens. The lens swivels 270 degrees, so you can use it to photograph things in front of you while watching the display screen, or swivel it around to record yourself and still be able to see what your capturing on the display. How cool.
A memory stick media slot – so capturing a ton of video without accessibility to download isn't a problem. Simply carry multiple sticks, and you can have an unlimited supply of video – or at least until the battery runs out.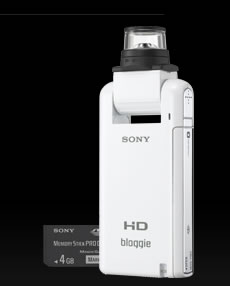 And the most exciting feature is the optional 360 degree lens accessory. The 360 lens lets you capture everything that's happening around you. So if you're interviewing someone, the 360 lens can capture the both of you, without having to move the camera.
The Bloggie is also compatible with both PC and MAC.
According to Sony, The Bloggie is shipping today, and will be in a store near you very soon. I'll be in line…
---
Don't forget to download your FREE Blogging Planner today.
Blogs can benefit any website but don't worry if you can't do all the writing yourself … you can hire a ghost blogger for that!