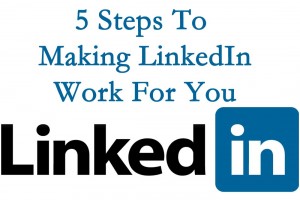 What's the best social media platform for you? It depends on your business, and who you are trying to reach out to.
If your client is corporate, it may involve LinkedIn. While LinkedIn hasn't zoomed to the top like Facebook in recent months, its still a platform used my millions of business people all over the world. Its set up exclusively to connect with other business owners, and provides you with everything you need to find connections, prospects and clients.
If you haven't looked at LinkedIn in a while, head back over and give it a try using these five steps.
Step One: Build A Dynamic Profile
If you've ever created a resume, it's easy to assume your LinkedIn profile should resemble your resume. Nothing could be further from the truth.
Take a moment and think about how people would search for you. Would they search for President of ABC Company? Or would they search for your type of business or niche: product photographer or retail marketing expert for instance? Keywords are important in the online world because people search by keyword, not by business name. You can also be found in a variety of ways, including on LinkedIn and on sites like Google.
Make sure you fill out a complete profile, and make it as detailed as possible. Put in a professional portrait of yourself – not your business logo or a photo of your dog. People want to connect with you as a person, and build a relationship before they take the next step. A professional photo gives you more credibility, and helps people visualize doing business with you. [Read more…]
---
Don't forget to download your FREE Blogging Planner today.
Blogs can benefit any website but don't worry if you can't do all the writing yourself … you can hire a ghost blogger for that!