When you think social bookmarking, you think Digg and De.licio.us. They are the big names, and the sites that have made the biggest names within this category. Yet just like every other category, the biggest doesn't necessarily mean it's the best for your business.
If you fall in the small business category, and provide news and tips that appeal to other small businesses, give BizSugar a try. BizSugar is a small business focused social bookmarking site that provides categories in the marketing, finance, franchises, global business, legal, management, technology and startup categories. The top voted stories receive front page status, and can usually wind up on the front page with 20 to 30 votes, or sugars. Readers also have the ability to send a post to Twitter, Stumble Upon, Delicious, Facebook, Google Buzz or Blogger, or email it to a friend.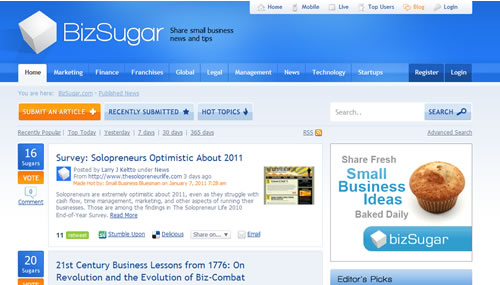 Like other social bookmarking sites, you have the ability to create a profile, including photographs, links to your website, RSS to your blog, and links to other social networking sites. Once your profile is built, you can begin sharing news, adding friends, commenting and voting on other stories, and building relationships with other BizSugar members.
The best way to see if you are a match for the BizSugar community is to head over and take a look around. Start by looking at today's top stories on the home page. You can click to top stories yesterday, over a 7 day period, 30 days, and past year. Also take a look at the hot topics to see what's trending now.
Once you have a good idea what's being submitted, and what people enjoy, start submitting.
---
Don't forget to download your FREE Blogging Planner today.
Blogs can benefit any website but don't worry if you can't do all the writing yourself … you can hire a ghost blogger for that!