When you first signup for your Twitter account, the first thing you do is look for followers. But what are the rules for unfollowing? Should you believe all the automatic follow/unfollow rules that people write about? What are the implications of not following someone just because they decided to follow you?
I actually use a variety of Twitter accounts both for my multiple businesses, and as a social ghost writer for a variety of clients. So I've tried out various methods, and have watched things change over the years.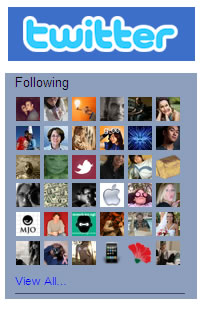 Here are my rules for following/unfollowing on Twitter:
Look For Quality People To Follow and Ignore The Rest
Twitter is a tool that you are using to try and grow your business. You may find a great resource that can bring in a lot to your business, either in resources and tips, or as a potential contact. Follow them and don't worry about whether they follow you. Watch what they send out. Retweet them. If they are big on Twitter, they will notice your retweets, and watch what you do. It is possible to eventually connect with great people down the line just by providing quality information and staying steady to your cause.
Don't Look At The Numbers
Would you rather have 500 quality people that bring potential to your business, or 5000 that just exist because they are on automatic follow? It's easy to get high numbers. What's not easy is getting quality people to your follow list that may actually help your business now or in the future. This isn't "get rich quick" This is about building a quality marketing campaign that helps you now, 6 months from now, 1 year from now, etc.
Follow Because You Have A Desire To Learn
I may really like photography, yet have no interest in scuba diving. You may love photography and want to learn more about it – which is why you follow me. You follow to learn from me. Because I have no desire on scuba diving, and choose not to follow you, is no reason you can't continue to follow and learn from me. Will we build a relationship in the future? Maybe. And maybe I'll have more of a desire to learn about scuba diving in the future based on that relationship. Don't cut off your learning source just for a unfollow "rule".
Good Reasons To Unfollow
They spam your account, selling in virtually all of their tweets.
They are on a mission for numbers – following hundreds in one day to build the account.
Everything is me-driven. If it's all about "me", its time to unfollow.
Nothing of value in any of their tweets. It's nice to be personal once in awhile. But if you're not learning or gaining from a tweet-stream, unfollow.
Swear just to swear. Talk about offensive material. Adult-content driven. Enough said.
Direct message or reply again and again with links to MLM opportunities.
Stop tweeting. If you can't find anything to say on a regular basis, your once a year post isn't going to cut it.
---
Don't forget to download your FREE Blogging Planner today.
Blogs can benefit any website but don't worry if you can't do all the writing yourself … you can hire a ghost blogger for that!