Have you caught the FourSquare bug?
FourSquare is a mobile application that lets you checkin anywhere around you. From your local gym, to a movie theater, to a restaurant – even the Apple store, you can checkin just about anywhere.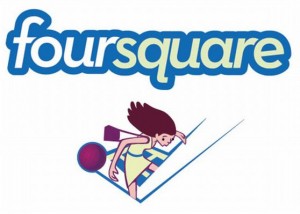 And if you checkin enough, you can unlock badges, specials, and even become the mayor of your favorite place.
Why FourSquare? It originally started out as a way of finding cool places to go in an area that may be unfamiliar to you. Co-founder Dennis Crowley was planning a trip to Scandanavia in 2008, and grew frustrated after a Google search gave him random and non-useful results. He reached out to friends to ask for travel tips and recommendations, and received some amazing tips. So an idea for an application that would allow users to share facts about locations in a gamelike format was born.
Sounds great. But is it really something that can make the long haul? Is this an application that will be here a year from now?
Maybe so. You just have to think outside the box for a while.
Let's say you are in the travel business. Why not build up your own channel of tips to locations you feature? When someone checks in, they will receive your tips?
That's what the History Channel started up as a way to promote sites they use in their programming. Instead of random tips, you'll actually receive historic tips put out by their historians. The more you uncover, the closer you'll get to unlocking the Historian badge. And you can learn a variety of interesting facts along the way.
Or how about if you host an event? SXSW may be off the charts compared with your event, but it's a great way to come up with ideas for your own. What if you used the app to bring people together? Provide tips about the local area, what to see and where to go.
I think we're going to be seeing a lot more of FourSquare in the future.
---
Don't forget to download your FREE Blogging Planner today.
Blogs can benefit any website but don't worry if you can't do all the writing yourself … you can hire a ghost blogger for that!