Technorati's State of the Blogosphere 2009, day 1,  was released today, providing valuable insight on who bloggers are today.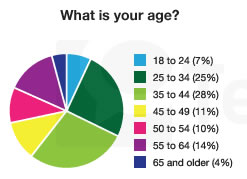 This report not only provides valuable insight on who is blogging, but for me, it also provides valuable insight on who is reading blogs. If this is the caliber of people creating them, you can be sure the same types of people are reading them on a daily basis.
Some things that immediately jump out is:
48 percent of bloggers are from the U.S.
Though blogging is pretty evenly distributed across the U.S., the 5 top states are California, New York, Florida, Texas and Washington.
On average, bloggers have three or four blogs they actively write for
75 percent have college degrees
40 percent have graduate degrees
One in three has a household income of $75K+
One in four has a household income of $100K+
More than 50 percent are married
More than 50 percent are parents
Do your customers fit this profile? Would you like more customers from this profile?
Blogging is something that pretty much every business owner has heard of, yet few know how to apply it to their business. But if you do, the rewards can be tremendous.
---
Don't forget to download your FREE Blogging Planner today.
Blogs can benefit any website but don't worry if you can't do all the writing yourself … you can hire a ghost blogger for that!