What will websites look like in the future?
More and more sites are being built on a WordPress platform – something that gives people the ease and accessibility of being able to mix their social sites with content on their own site. But how about intermixing your site with one of today's giants – Facebook?
Levi's has now incorporated their shopping experience with Facebook. Login to your Facebook account right on Levi's site, and you can begin to share your favorites with your friends, and see what they like as well.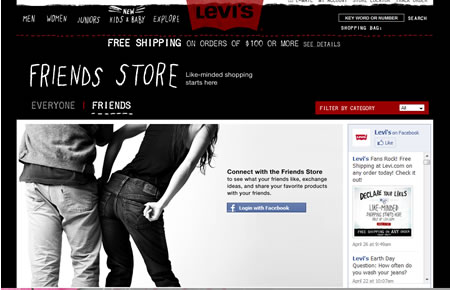 If you don't login, you can still participate by seeing everyone's favorites. Levi's shows how many people have "liked" each of their products, and you can see a running stream in the Everyone section to find out what other people are buying too.
Will this eliminate a need for search in the future? Instead of searching for cool products, you simply watch your Facebook stream to determine what's hot among your friends.
What do you think?
---
Don't forget to download your FREE Blogging Planner today.
Blogs can benefit any website but don't worry if you can't do all the writing yourself … you can hire a ghost blogger for that!