Do you "get" Facebook? Or are you asking yourself, "why would anyone really want to know I'm heading out for lunch?" before you type in your status update.
Status updates are designed to start conversations. They help you share information with your fans, and hopefully start up conversations that exist between all of the members of your Facebook page.
First, know your fans. Why are they a part of your Facebook page? What do they have in common?
In the case of our VirtualPhotographyStudio page, people have the desire to build up the business side of photography. They want to take their passion for photography, and turn it into a true business. So we motivate people on our VirtualPhotographyStudio page to take action. And because they are all photographers, we add quite a bit of photography to our group as well.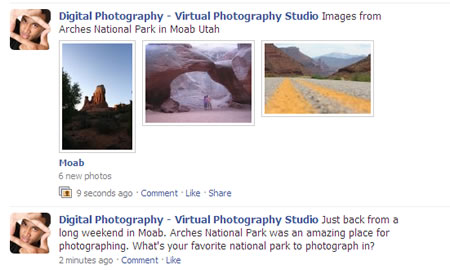 Next, post your updates regularly. You have to be dependable for people to rely on your as a business and as a brand. Post daily, and share not only your business tips, but also add a little personality to it. Ask questions. Get your fans to interact.
Don't forget about adding videos and photos. Invest in camera equipment that makes it easy for uploading, like the Flip video camera. It's easy to use, easy to upload, and it gives your audience one more reason to come back and visit you. Don't think Hollywood quality. Think quick tips, and how you can get a little bit of information into the hands of those that will enjoy it.
Social gives people a reason to interact, and a reason to stay in touch. I've created many relationships with mentors where I learn a ton about them, and know their lives quite well – even though we've never spoken once to each other. But because I'm emotionally attached to them as my mentors, I follow them to learn more. You can do the same by reaching out and sharing information about your brand, your business, or your products. People care if you are willing to share.
---
Don't forget to download your FREE Blogging Planner today.
Blogs can benefit any website but don't worry if you can't do all the writing yourself … you can hire a ghost blogger for that!