Some businesses make it big because of hard work and dedication of the founding members. Some business models start with a simple idea, and morph quickly into something way beyond the original goals. And some businesses make it big because they happen to be in the right place at the right time.
As a business owner, and someone who's had three successful businesses over the past 20 years, I love reading stories about other businesses. A successful person will always tell you to read biographies of other successful people. The same holds true with successful businesses.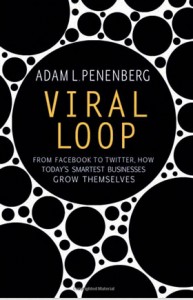 Which is one of the reasons I couldn't put Viral Loop, by Adam L Penenberg down once I picked it up.
Penenberg approached this book to look at successful companies that took the Internet by storm, creating a viral loop that allowed them to grow substantially in a very short period of time. Some of the best known companies online right now succeeded because of this viral loop – think Flickr, Facebook and Twitter.
But rather than start us out looking at the now most famous online companies that are common hoursehold names, Penenberg chose to take us back to some of the early starts.
Like Tupperware.
Tupperware grew into a national phenomena due to a joint venture between two people: Earl Silas Tupper, the inventor of Tupperware, and Brownie Wise, a top sales distributor with Stanley Home Products. Wise was a single mother, who moved through the ranks of Stanley due to her in home party concept. When she discovered Tupperware, she instantly knew the party concept would be a quick way to grow the Tupperware line. And grow it did. Very quickly her top dealers were bringing in up to $1500 a week through the party concept (that's $14,000 in today's dollars).
These parties gave us two marketing techniques that are still used today, and have heavy impact in the viral loop created by today's top online companies.
1. Referral marketing
2. Trusted social gatherings
Women loved Tupperware because their friends told them all about it. Not only could they tell their friends about it, but they could also tell their friends about a way to make money and get free product too. Hold your own party, and you can earn bonus gifts. Become a party organizer, and make a few dollars on the side.
And women ate the concept up. It wasn't a matter of seeing something on the shelves, not knowing what it was. Their friends confided in them about something new, something amazing for running an efficient home.
And the rest as they say is history.
From there you gain insight on different marketing strategies, and different ways to turn your concept into a viral machine.
---
Don't forget to download your FREE Blogging Planner today.
Blogs can benefit any website but don't worry if you can't do all the writing yourself … you can hire a ghost blogger for that!