This weekend I finished up The Whuffie Factor by Tara Hunt. With most business books I grab them, visit the table of contents and read one or two things that stand out to me. But as I started reading through The Whuffie Factor, I found myself drawn in, and having to go back a chapter or two to find out even more information. So I started at the beginning, and dedicated myself to the whole book. And along the way started looking at my 2010 plans for social networking in a whole new way.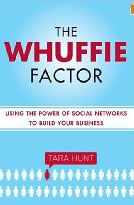 Even though I'm heavily active in Web 2.0 technology, have been blogging and participating in social networks for years, there's always something new to learn. Tara doesn't just write about ideas – she gives case studies along the way that actually make you think about how you can apply things to your own business.
For example, she introduces us to Jonathan Coulton, a former software developer who was able to quit his day job, and do what he is passionate about – music. He doesn't have a record label. Instead he makes use of social. His secret? He tries everything, and sticks with things that work. He encourages people to record him and place the videos on YouTube. This has led to hundreds of videos posted, and millions being driven to his site. Instead of selling traditional CDs and MP3s, he gives the majority of them away for free. When people like what he has to offer, they head back to his site, sometimes buying more of his music, or some of his merchandise. Or even buying sponsorship through his virtual bananas, monkeys and robots.
5 Thoughts To Use From This Book
1. Perhaps you are finding out for yourself that it is getting easier and easier for customers to ignore you. In fact, maybe it seems that the louder you yell, the more they tune you out. This is happening because the airwaves are polluted, people have been burned too many times, and too much choice without clear differentiation makes customers miserable.

2. Make happiness your business model. There are four elements consistent in moving people's feelings from unhappy to happy. They are:
autonomy – the level on control individuals feel over their surroundings,
competence –the feeling of accomplishment that arises when people are challenged and able to meet that challenge
relatedness –how connected people feel with others
self-esteem – how happy you are normally with yourself
3. Embrace the chaos. Let go of the need to plan everything, and the fantasy that you can control any given situation. Instead build flexibility and environmental awareness into your campaigns.
4. Meet their needs instead of your own. Realize your customers are multi-brand loyal, and are constantly on the move looking for the next greatest thing. If you find it, share it. Even if you don't make a dime, you're creating loyal fans because of your ability to give more to those that are following you.
5. Live and breathe your higher purpose. Tara talks about the company Zappos.com. One of the things I liked the most about this case study were Zappos' ten core values:
deliver WOW through service
embrace and drive change
create fun and a little weirdness
be adventurous, creative and open minded
pursue growth and learning
build open and honest relationship with communication
build a positive team and family spirit
do more with less
be passionate and determined
be humble
---
Don't forget to download your FREE Blogging Planner today.
Blogs can benefit any website but don't worry if you can't do all the writing yourself … you can hire a ghost blogger for that!