What makes your blog more colorful, and gives it more eye appeal? Photos and video of course.
People don't like coming to a page, and seeing nothing but copy. They like to have something to break up the text, and focus on something pleasing for awhile.
In today's State of the Blogosphere, they covered the how of blogging – what people are doing right now with their blogs. While there is a ton of great information, and again the interviews are well worth going through, the thing that popped out at me was the use of media sources on blogs.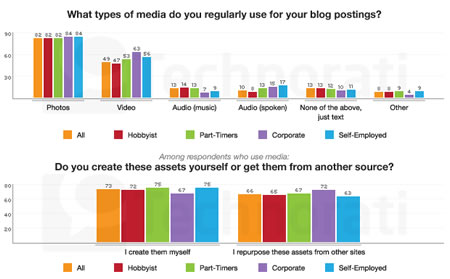 While audio was a big thing a few years ago to incorporate into a website, its not that big of a deal with blogs. Move to photos, and across the board, around 82 percent of all bloggers are using photographs to showcase or highlight what they are blogging about. I also found it interesting that its pretty equal where the photos are coming from – they create them themselves, and they get them from other sites. (A good reason stock photo houses are the place to be putting photos if you're a photographer.)
I was also impressed with the number of bloggers using video – between 47 and 63 percent. Video is booming right now, and it's a way of communicating with your readers on a whole new level. Instead of reading, they can see and hear you. It brings in another sense, and allows them to connect with you based on your voice and your body language.
3 Stock Photo Sites:
Great Video Gear:
Try the Flip Video – I love it. Take your video, pop it into your computer via the USB port, and upload your video to YouTube, Facebook, or any other video site. You can have Video on your site in minutes.
---
Don't forget to download your FREE Blogging Planner today.
Blogs can benefit any website but don't worry if you can't do all the writing yourself … you can hire a ghost blogger for that!