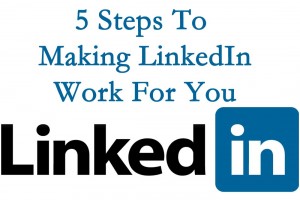 What's the best social media platform for you? It depends on your business, and who you are trying to reach out to.
If your client is corporate, it may involve LinkedIn. While LinkedIn hasn't zoomed to the top like Facebook in recent months, its still a platform used my millions of business people all over the world. Its set up exclusively to connect with other business owners, and provides you with everything you need to find connections, prospects and clients.
If you haven't looked at LinkedIn in a while, head back over and give it a try using these five steps.
Step One: Build A Dynamic Profile
If you've ever created a resume, it's easy to assume your LinkedIn profile should resemble your resume. Nothing could be further from the truth.
Take a moment and think about how people would search for you. Would they search for President of ABC Company? Or would they search for your type of business or niche: product photographer or retail marketing expert for instance? Keywords are important in the online world because people search by keyword, not by business name. You can also be found in a variety of ways, including on LinkedIn and on sites like Google.
Make sure you fill out a complete profile, and make it as detailed as possible. Put in a professional portrait of yourself – not your business logo or a photo of your dog. People want to connect with you as a person, and build a relationship before they take the next step. A professional photo gives you more credibility, and helps people visualize doing business with you.
Step Two: Add Contacts
Start by searching the database for people you know. If you have more than one person in your company, start with your employees or teammates. Then branch out and look for people you work with in your community. Vendors, clients, networking connections, power partners, friends through work or school – anyone you've connected with in the past that may help you connect and grow in the future.
Remember, this isn't like Facebook. You don't have to have thousands of friends to build a successful strategy. Instead, focus on finding people that can help you grow along the way.
Step Three: Add Recommendations
Once you connect with people, pick out clients and vendors you've worked with in the past, and ask for recommendations. People will generally give you a testimonial on your profile if you ask. And if you know them well enough, ask them a couple times if they "forget". Because we all get buried in email and "chores", it's easy to forget to carry through on an email request. If you don't hear from someone in a couple of months, try it again. Try to get 5 to 10 to start, and keep it proportional to the amount of friends you have. 50 testimonials with 50 friends may seem a little too good to be true.
Step Four: Join Groups
The only way to make connections is to get active. LinkedIn has created a variety of groups and associations that you can join with a click of the mouse. Search for groups based around your line or work and your interests. Don't forget to look for places your target market hangs out, and connect to people in a variety of ways. Then get involved in discussions.
Just like with any social media site, never jump on and promote. Social networking is not about promoting. Instead its about connecting and proving your expertise – the selling will come after you've built strong relationships.
Step Five: Answer Questions
The Answer section is my favorite area. Every day people head over and ask a variety of questions in a variety of areas. Search for areas where you can showcase your expertise, and start answering. Don't give quick bullet points; instead give knowledge and answers like you are communicating with a prospect on the phone. Not only are you showcasing your knowledge for all to see, but you're also connecting with potential customers. And if your answers are selected as the best, you'll have added depth on your profile showcasing your knowledge. A win win for everyone.
---
Don't forget to download your FREE Blogging Planner today.
Blogs can benefit any website but don't worry if you can't do all the writing yourself … you can hire a ghost blogger for that!