There are two types of people on the Internet today: people that spend money and people that make money. Unfortunately most business owners fall in to the category of spending more than they make, and have never learned the secrets of creating a successful online presence. Over the last fifteen years, we have watched websites go from being optional to being a required business asset. We've watched web presences go from small websites, to combinations of blogs and social networking sites. Many small business owners and independent consultants may understand the importance of having a strong online strategy; so they jump on the bandwagon and spend hundreds or even thousands of dollars creating a web presence. Then they begin questioning "Now what?"
Here at TheSocialGhost.com, we're providing you with answers.
Maybe you are wondering why a Facebook account is so important to you. Maybe you just don't understand the whole Twitter craze, and how it fits into your business plan. Blogging? Do you really have that much to say every week to keep a blog fresh and inviting to your readers? Are ezines still a good tool to connect with potential customers? What is lead generation, and how can it help you build traffic to your site?
Or maybe you do know some of the answers, but you just don't have the extra hours to put it all into place to help grow your business.
That's where we come in.
We know you can create a profile on Facebook or Twitter, but do you have the time?
We know you can create blog posts every day, but do you have the time?
We know you can stay active on growing your followers and friends on the social sites, stay connected and chat regularly, and keep the content coming in day after day. But do you have the time?
If not, TheSocialGhost.com is here to help you put together a plan. We understand the demands of small business owners who are already wearing too many hats, and ended up letting many of them fall to the wayside.  We're here to make sure you utilize the latest technology for your business AND still have time to do the things you really love to do. We are experts in small business marketing, online marketing and social networking. We research and study social networking practices every day. We keep up to date so you don't have to.
Then we provide you with the type of training you truly need to succeed.
Want to do it yourself? Make sure you check out our every-growing self-training products. We provide you with up-to-date, quality information that gets you where you are going in the fastest way possible.
Want help putting it together? From strategy sessions, to one-on-one coaching, to monthly marketing programs, we can be the secret to getting more done every month.
Looking for something in between? Not a problem. We can direct you to the perfect solution for you. We've worked with a lot of businesses, just like yours.
Day Spa - We started by setting up a customized blog/website. We provided one-on-one coaching to start the staff blogging on a regular basis, share automation and production tools, and help in growing their Twitter and Facebook presence.
Photographer - Designed a customized blog, and provided copywriting services for set pages. Created a motivating About Us page. Provide regular ghost blogging services to ensure SEO capabilities and begin attracting clientele. Reviewed and provide support for profile content on various social networking sites.
Medical/Dental – Provide a customized blog, ghost blogging services, and full Facebook setup and relationship building skills. Meet regularly for one-on-one strategizing sessions. Set up customized contests to increase Facebook presence.
And that's just a few of the many industries and small business owners we've helped along the way.
Our background in bullet points:
TheSocialGhost.com was created by two dynamic entrepreneurs: Andrew Osterberg and Lori Osterberg, co-founders of Vision Business Concepts Inc.
Over the years, we've done a variety of things with our businesses.
We are successful at business. Together Andrew and Lori have created three successful businesses, and love being entrepreneurs.
We are raving fans of technology. We are passionate about technology, the Internet, and finding ways to make things more efficient for today's small businesses. If you have a small business, love what you do, and want to find a way to be even better at it, chances are we'll become just as passionate as you about what you do.
We love sharing everything we know. Lori has authored two books, has been a columnist on small business marketing for the Denver Business Journal, written a variety of ebooks and training manuals, and written articles for countless publications both online and off. You may have even been to one of Andrew or Lori's classes or seminars – they love sharing what they know with others.
We are creative artists. Andrew and Lori have both received numerous awards for their photography, marketing, entrepreneurial spirit, and business forte.
We love the online world. Lori and Andrew have many different sites in many different niches, including TheSocialGhost.com and VirtualPhotographyStudio.com
We are here for you. Lori and Andrew both speak and train a variety of groups on the power of marketing, and how the online world helps you market to a much larger audience.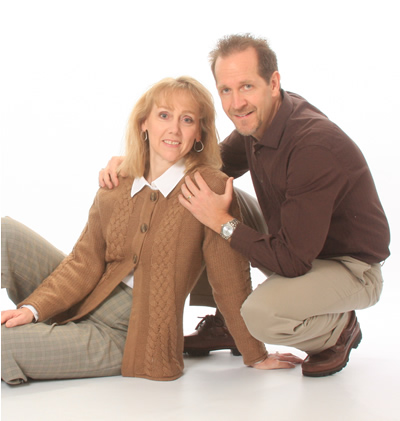 Follow them at:
Twitter.com/photoshoptips
Twitter.com/LoriOsterberg
Facebook-TheSocialGhost
Or of course, at Twitter.com/TheSocialGhost